Αγαπητοί γονείς
Με χαρά σας καλωσορίζω στον δικτυακό τόπο του σχολείου μας.
Ονομάζομαι Μαρία Ανδρακάκου, είμαι Μαθηματικός με πολύχρονη Διδακτική και Διοικητική εμπειρία και πρόσφατα ανέλαβα την Διεύθυνση της Ελληνικής Σχολής του Αmerican Academy.
Έχοντας την εμπιστοσύνη της Διοίκησης, συνεπικουρούμενη από τον αξιολογότατο Σύλλογο των Καθηγητών, αλλά και σε συνεργασία με την οικογένεια, σας διαβεβαιώνω ότι με ζήλο, ευσυνειδησία και αξιοπρέπεια θα επιτύχουμε σωστή διαπαιδαγώγηση κάθε παιδιού, ενισχύοντας την αυτοπεποίθηση και την υπευθυνότητα, ταυτόχρονα με τον σεβασμό στον εαυτό του και τους άλλους, προσόντα που απαιτούνται, για μια επιτυχημένη είσοδο σε ένα κόσμο που αλλάζει.
Μέσω των εκπαιδευτικών δράσεων, με καινοτόμα προγράμματα, με συνεργασίες με Ευρωπαϊκά σχολεία, με εκδηλώσεις και διδακτικές επισκέψεις θα δώσουμε σε κάθε μαθητή τη δυνατότητα να αναδείξει, ιδιαίτερα, ταλέντα και ικανότητες.
Η πλοήγηση στην ιστοσελίδα μας, θα σας δώσει πολλές πληροφορίες σχετικά με τη λειτουργία του σχολείου μας, καθώς επίσης και για τις διάφορες εκδηλώσεις και δραστηριότητες, που θα πραγματοποιούνται καθ΄όλη τη διάρκεια της σχολικής χρονιάς.
Τελειώνοντας εύχομαι σε όλους τους μαθητές, η καινούργια σχολική χρονιά να είναι γεμάτη με χαμόγελα επιτυχίας και προόδου.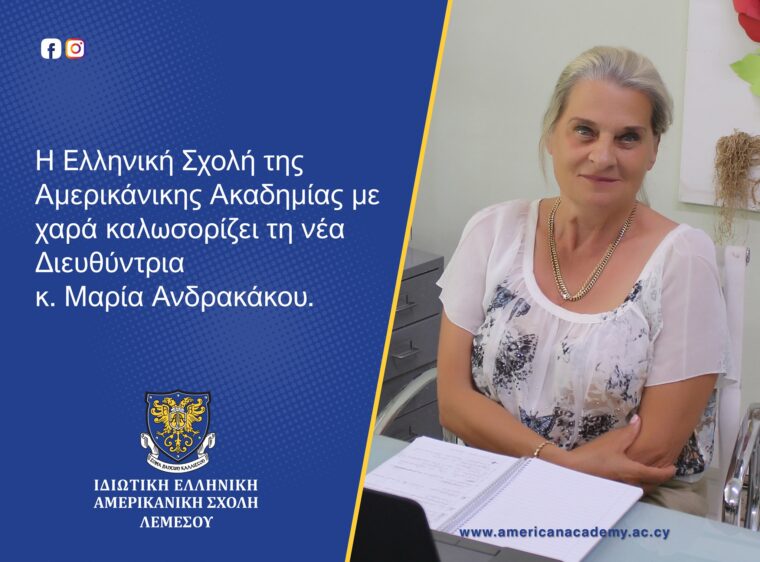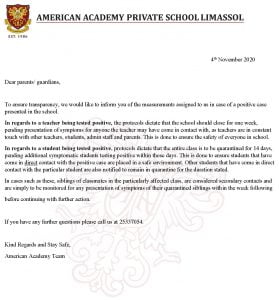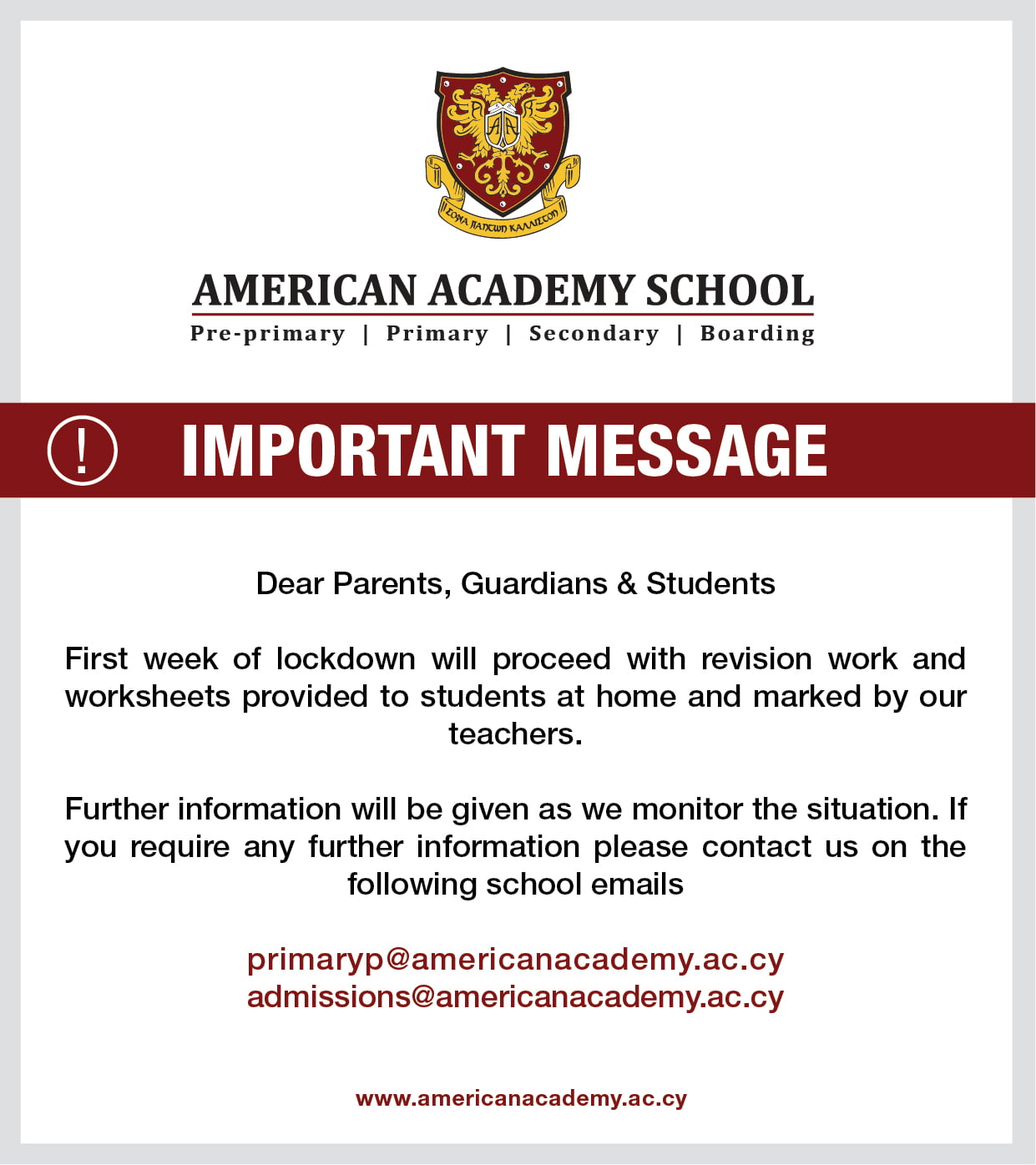 We would like to inform all the parents/guardians that the Ministry of Education has announced the shutdown for the whole country public and private schools.
These precautionary measures are being taken for the ongoing security of our students and their families and will take effect as of tomorrow, Friday 13th of March and will last until the following Friday 20th of March.
Stay safe and healthy and have a good rest above all.
Here is the letter we have prepared and given out to the students:
Today our primary school principal Mrs Kallia Rigas handed over a donation of 5000 euro to Mr Loucas Fourlas who is the founder of the non-profit organization Little Heroes, our primary school raised the money from the entrance fee of our annual Christmas show, sponsors, our generous parents and a lot of hard work from our staff and children. The money received by Little Heroes will provide financial support to families of children with cancer and leukaemia at the Paediatric Oncology Unit this year.
Today our students at the secondary school handed over a significant amount of dog food, blankets and water bowls to the Sirius dog sanctuary. Thank you to all our students and parents for donating to this wonderful charity. We are very proud of our students for their efforts.
Our Tennis champion Cleo Maria Ioannou at the Cyprus Olympic Committee's "Awards Ceremony for the Best Teens and Young Women 2019" held on Tuesday February 11th at the Olympic Palace, Cleo was awarded the Best Young Tennis Player of the Year in Sports, for her efforts, her morals, and her successes both nationwide and internationally. From all of us at American Academy Limassol we are very proud of your achievements.
American Academy's tennis star Cleo Maria Ioannou has deservedly won within one month four European titles, namely the
SKOPIA OPEN U 14, 2019 NICOSIA FIELD CLUB U 14
ELEON CLUB U 16
FAMAGUSTA CLUB U 14
Our tennis champion now has in all 22 European titles and featured in 28th place in the European ranking and Nationally in Cyprus she holds first place in both the U14 category and the U 16 category. Congratulations and we wish you all the best for 2020!
Our annual Spring Fair will be held at our primary school on the 25 May 2019 from 11am to 4pm.
Parents and kids are all invited for a day of fun with lots of games and activities. We will also have a raffle with lots of big prizes to be won!