Secondary Principal Message
Dear Parents and Guardians,
Welcome to the American Academy Private School website, the purpose being to provide parents, students, and our school community with easy access to a wealth of information pertaining to our programmes, policies and activities.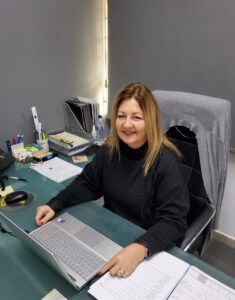 Our school is a great place to teach and learn with teachers committed to a high-quality learning experience focused on the individual needs of each student. We strive to be creative and innovative in our instruction, to engage students in their learning through a variety of activities, applications of technology, and 21st Century skills. Our school community has a long-standing tradition of excellence in academics, athletics and the arts. Furthermore, as a school, we are committed to our mission of preparing students to be productive citizens and life-long learners in an ever-changing world.
Our primary goal is to help all students achieve their dreams and find success in pursuing life goals. We are unconditionally committed to providing the best possible educational programmes to our students. We believe that there are numerous opportunities, both within our curricula and through extracurricular activities, for our students to acquire the skills that will enable them to be successful after graduating from our school.
As demands of teaching increase, it is more evident that we all need to work together to ensure that our students reach their fullest potential. The school, parents and the community must therefore work together as an extended family as it's our responsibility to empower the students entrusted in our care with the creative, intellectual, and decision-making skills necessary for them to become academically, socially, physically and emotionally successful.
Our teachers set high academic standards for our students and work diligently to ensure that each student is working to his or her maximum ability. The handbook, emailed at the start of each academic year, contains information that is important and useful, so I urge you to refer to this. The guidelines are written in order to create an environment conducive to learning and a school where everyone feels safe and secure. The expectations for behaviour are based on the essential value of respecting the rights and dignity of each other. Our school will continue to be an outstanding community as we strive to instill mutual respect and responsible behaviour. When all of us work together with everyone doing his or her part, we truly can make a difference for everyone's educational journey.
In conclusion, one of the most vital aspects of my role here at the American Academy Private School is to build strong relationships with students, teachers and families, as my passion has been and always will be, educating students as I have been in education for over 30 years. With that in mind, I work diligently with teachers to make sure our students are exposed to curriculum and instruction that is both engaging and challenging. With an open-door policy, I welcome input and ideas, and look forward to having a long and rewarding relationship with you and your family.
Sincerely,
Jodi Rigas
The Principal of the Secondary School